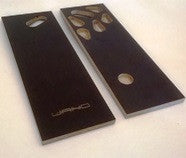 Linn LP12 Wand Armboard
This double skinned plywood armboard, slots directly in to your Linn LP12 and enables you to mount either a Wand 9.5in or 10.3in directly.
It has pockets machined on the underside to aid the balance of your Linn and disperse resonances.
See attached Instructions on doing this. Some Linns need a small mod to the corner brace.