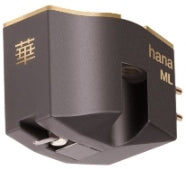 Hana ML Moving Coil Cartridge (& MH)
華 Hana, means "brilliant and gorgeous" in the original Japanese. Hana cartridges are produced by Excel Sound Corp from Japan, a long established cartridge making company who produce for many other companies. In picking the best bits for their own cartridges, Hana Phono Cartridges use high rigidity aluminium cantilevers, and cross-shaped armatures with the aim of providing brilliant and gorgeous sound.  
The Hana "ML" uses a nude natural diamond Microline-stylus, capable of excellent high frequency response, giving transparency and excellent trackability.  Hana cartridges are available as 'low' and 'high' output versions. The latter "MH" being suitable for quieter Moving Magnet inputs but we only hold limited stock so ask before ordering (The price is the same).
The ML also gains the following features over the SL model;
-Super-pure copper coils,
-Brass top plate and threaded inserts
-More inert grade of plastic body
We are only authorized to sell these in New Zealand but we can help find your nearest Distributor if you struggle to find them. NOTE NZ GST tax is added at Checkout. (So the total will be $1795 inclusive of GST)
We have a number of retailers / demonstratiors in Auckland, Hamilton, Nelson, Timaru and Dunedin. Contact us to be put in touch.
 Hana Cartridge NZ Data Sheet Link